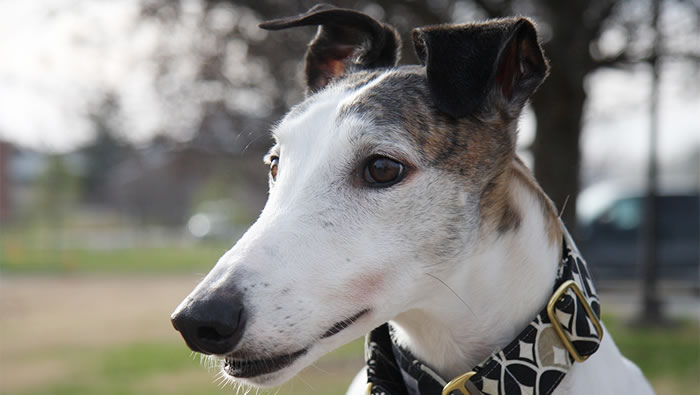 Just like humans, animals with illness or injury often require blood transfusions. And like humans, animals have specific blood types, meaning that the animal receiving the blood needs to get it from a donor animal that "matches" well. The MU VHC maintains a blood bank in order to have the right type of blood product necessary for our patients immediately when needed.
Our blood bank uses a combination of blood that we collect and process right here, and blood products that we buy commercially. Live-in blood donors provide most of the blood used by our patients. We have a small colony of dogs and cats that live in our hospital until they are adopted to a "forever" home. While they live with us, our animals are always assigned to a veterinary student who gives them plenty of care and attention. In addition, we have volunteers who come regularly to give our donor animals extra attention, including long walks outside every day for our donor dogs.
Each of our donor animals is carefully screened to ensure they are healthy so that blood donation is safe both for the donor animal and the animal that will receive the blood. This includes strict protocols for infectious disease testing, as well as regular use of heartworm, flea and tick prevention for our donors. Our donor animals have their teeth brushed daily, too!
Frequently Asked Questions About the Blood Bank
Where do our donors come from?
Our donor dogs are usually retired from race tracks, or they weren't quite fast enough to race. They live with us at the VHC for a year or two as donors and eventually find homes as pets. Our donor cats come from a couple of sources. Some are retired research cats, and others were rescue animals that otherwise did not have a home. Our cats are also adopted after a stint in our facility.
Why so many greyhounds?
Greyhounds make great donors! They are large dogs that can give a full unit of blood, they often have the blood type that is mostly likely to be accepted by other dogs, they have easy-to-see veins that make blood collection simple and they have a placid temperament and usually don't mind giving blood. What makes them even better donors is that they have more red blood cells to carry oxygen than do most other dog breeds.
Why do the dogs wear basket muzzles while on walks?
Many folks see our greyhounds on walks around the university and wonder why they are wearing basket muzzles. Our dogs all have loving temperaments, and these roomy muzzles that allow the dog to pant, bark, etc., are not there to prevent biting or fighting. The reason for the muzzles is that when they don't wear them, they are often fast enough to scoop up old food wrappers and scraps lying on the ground. The muzzles are there to keep our dogs from getting sick from eating things they find on the ground.
How can I volunteer to walk dogs or play with cats?
Our blood donor program seeks volunteers to enrich the lives of the blood donor dogs and cats through exercise and companionship. Learn more about volunteering with our donors.
What kinds of blood products do you use?
There are several types:
Whole blood. This is simply blood collected into an anticoagulant, a liquid that stops the blood from clotting.
Packed red blood cells. These are the red cells that give blood its color and carry oxygen to the body. These are given to animals with anemia (too few red cells).
Plasma. This is the liquid portion of the blood. It can be fresh, frozen or fresh frozen. Plasma contains needed proteins, clotting factors and other necessary substances.
Platelet concentrate or frozen platelet concentrates. These products are enriched to have mostly platelets, very small cells whose major job is to stop bleeding. Because platelets are used only once, a single platelet transfusion often is not enough to stop bleeding and is reserved for animals with life-threatening bleeding problems.
[/toggle]

Can you tell me which dog or cat supplied blood to my pet?
Sure! We would be happy to let you know which of our donors gave blood to your pet, and you may even be able to meet that donor. Sometimes our clients will even bring the donor animal a little treat, be that some special food or a toy. If you are interested in giving your animal's donor a thank-you gift, please ask to speak with Matt Haight, the technician in charge of the donor program. He can let you know what the donor animals are allowed to have. (Some toys are not safe in their housing, and some foods are also off-limits.)
Our Current Blood Donors