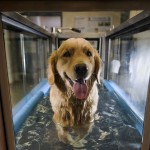 Hydrotherapy (aquatic therapy) is effective in reducing weight-bearing on joints during activity, improving strength and endurance, and enhancing range of motion.
Electrical stimulation is a form of physical therapy that is effective in maintaining muscle strength and tone, reducing muscle spasm, improving pain control, increasing muscle re-education and promoting wound healing.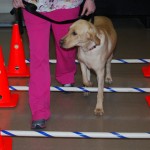 Cavaletti rails are used in physical therapy to encourage increased length of stride and range of motion. They are also used to promote balance and coordination for pets recovering from certain neurological diseases.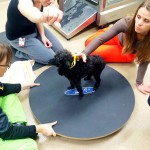 Wobble (or balance) boards help pets maintain core strength and stability during weight-shifting exercises.
The cold-compression unit combines cryotherapy (extreme cold therapy) with compression to reduce pain and inflammation and accelerate wound healing after injury or surgery.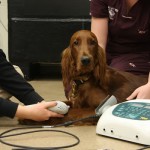 Laser therapy uses light energy to promote tissue repair, improve circulation and decrease inflammation.
An exercise (or therapy) roll may be used to enhance balance and core strength.