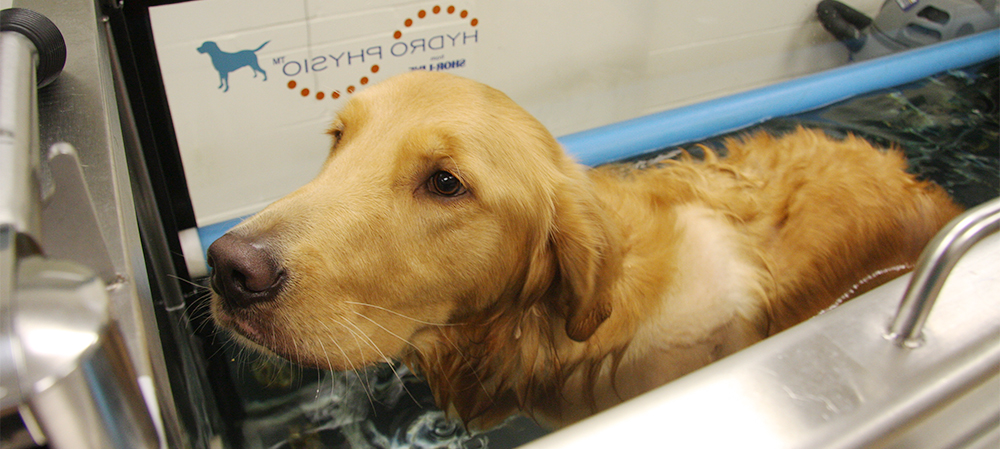 What to Expect at Your Pet's First Physical Rehabilitation Appointment
When you arrive at the University of Missouri Veterinary Health Center, you will first need to check in with the reception staff in our front lobby. Please indicate that you are here for your pet's physical rehabilitation session, and we will be promptly alerted of your arrival.
One of our team members (faculty clinician, rehabilitation practitioner or veterinary student) will escort you to a scale to weigh your dog or cat and will show you to a private examination room to discuss your pet's history. Next, he or she will perform a physical examination of your dog or cat.
This initial evaluation may be performed by a fourth-year veterinary student. Students are veterinarians in training, and this is one of the most valuable aspects of their education. We appreciate your patience in allowing them to perform a brief examination of your companion and to spend some time speaking with you.
If a student conducts the initial evaluation, they will report their findings to a clinician or rehabilitation practitioner who will then discuss your pet's condition with you, including the proposed diagnostic and rehabilitation plan.
If you have questions about what to expect during your visit with the University of Missouri's Small Animal Physical Rehabilitation Service, please give us a call. We look forward to working with you in caring for your pet.
To schedule an appointment, please use the information below.
Clients: 573-882-7821
Referring veterinarians: 866-895-7267
Important things to keep in mind:
Please allow plenty of time to get to the Veterinary Health Center, especially if this is your first visit. We are approximately two hours from St. Louis and Kansas City when traffic is favorable.
Please be prompt for your appointment, and plan on being here up to three hours for your pet's initial exam and diagnostic tests. These assessments will allow us to determine the best course of treatment for your pet. Thereafter, sessions will be shorter in nature.
There is no need to bring food, bedding or toys for your pet's physical therapy session. We have all necessities required on site.
If your pet is admitted for in-hospital treatment, we will be in contact with you every day regarding your pet's progress. You are also welcome to visit or call daily.
If you do not plan to attend your appointment or are running late, please contact the hospital as soon as possible so we may adjust our schedule accordingly.
By hospital policy, payment is due at time of service. Learn more about our billing policies and payment options.
Please do not hesitate to call us at 573-882-7821 if you have additional questions or concerns.