The Motion Analysis Laboratory located in the MU Veterinary Health Center is designed to aid veterinary professionals with the evaluation, identification and treatment of injuries in canine athletes.
Canine athletes can be found in almost every breed of dog and their athletic endeavors can encompass a wide range of activities. These dogs include working dogs, hunting dogs, dogs that participate in companion events (e.g. agility, fly-ball, rally, tracking, etc.) and performance events (e.g. lure coursing, greyhound racing, herding, mushing, etc.), and everyday companion dogs.
Dogs have served as partners to humans in various activities for thousands of years. And while specific injuries have been recognized in these canine athletes, it is only in the recent decades that we have begun to take advantage of advanced techniques such as motion analysis to aid in injury diagnosis and localization, as well as for the assessment of various treatments.
Injuries frequently identified in canine athletes may include the following: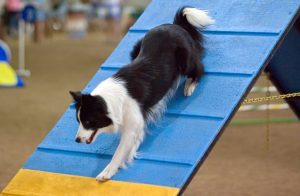 Muscle/Tendon strain
Ligament sprain
Back injuries
Cruciate ligament injuries
Bicipital tenosynovitis
Supraspinatus tendinopathy
Infraspinatus contracture
Shoulder instability
Iliopsoas strains
Gracilis Myopathy/Contracture
Semitendinosus Myopathy/Contracture
Semimembranosus Myopathy/Contracture