When it comes to health care, pet owners want only the best for their furry family members. The University of Missouri Veterinary Health Center at Wentzville, Missouri, offers unique services to complement the full line of routine and specialized veterinary care at our Columbia location. Our satellite clinic opened in 2011 and provides convenient care for St. Louis-area clients whose pets need cancer treatments, dermatology or advanced diagnostic imaging.
The Veterinary Health Center at Wentzville brings advanced diagnostic and therapeutic services to the St. Louis area, improving accessibility to the resources of University of Missouri College of Veterinary Medicine for veterinarians and their clients. Diagnosis and treatment of dogs and cats with certain cancers and dermatologic diseases are more convenient, economical and less stressful for owners and pets.
Our VHC – Wentzville veterinarians include board-certified specialists who are happy to work closely with your local veterinarian or coordinate care with the specialists at our Columbia location. If you are unsure if your pet is a candidate for care at our clinic, please call us or talk to your veterinarian.
Wentzville Resources: Ways to Refresh While You Wait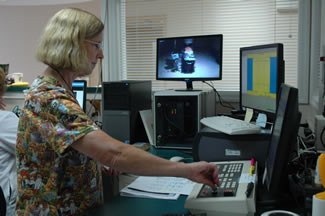 Cancer diagnosis and treatment
Our board-certified radiation oncologist offers the following services at our Wentzville facility:
Radiation oncology ― Radiation therapy can be delivered on an outpatient basis with our state-of-the-art linear accelerator.
Medical oncology ­― Cancer treatments include new options available through clinical trials of newly developed anti-cancer drugs.
Testing, such as aspiration cytology or biopsy, to diagnose cancer, and full staging to evaluate patients for any evidence of metastatic spread of disease.
Skin and ear conditions
The Missouri Veterinary Dermatology Center in Wentzville is operated by CARES LLC and has added a second dermatologist to increase the number of patients we can help by diagnosing and treating allergies, bacterial and fungal infections, ear diseases, parasitic skin diseases, endocrine and metabolic skin disorders, immune-mediated skin diseases, skin tumors, nail and nail bed diseases and other dermatoses.
Services include:
Intradermal testing to identify allergies
Injectable and oral allergen-specific immunotherapy
Video otoscopy for deep ear flushes, myringotomies, bulla cultures and removal of foreign bodies and polyps from the ear canal
Use of carbon dioxide laser to remove skin growths and treat severe pododermatitis
Advanced diagnostic imaging
We offer computerized tomography as well as diagnostic radiography. All images are evaluated by a specialist in veterinary radiology.
To make an appointment, call 636-332-5041.
VHC Wentzville veterinary referral form
---
University of Missouri's Veterinary Health Center at Wentzville
(Oncology services)

Shirley Chu, DVM, PhD, DACVIM (Oncology)
Assistant Clinical Professor of Medical Oncology
Board-Certified Specialist in Veterinary Oncology
Tara Ehling, DVM, DACVR-Radiation Oncology
Assistant Clinical Professor of Radiation Oncology
Board-Certified Specialist in Veterinary Radiation Oncology
Board-Certified Specialist in Veterinary Oncology
Susan Starr, DVM, Medical Director
Staff Veterinarian
Staff
Teri Baxter, Veterinary Assistant
Darla Combs, RVT, Veterinary Technician
Sierra Daniels, RVT, Veterinary Technician
Clare Frederking, RVT, Veterinary Technician
Devin Koester, Veterinary Assistant
Abby Russell, RVT, Veterinary Technician
Carla Zerbolio, Office Supervisor
---
Missouri Veterinary Dermatology Center in Wentzville

Karen Campbell, DVM, MS, DACVIM-Small Animal Internal Medicine, DACVD
Board-Certified Specialist in Small Animal Internal Medicine
Board-Certified Specialist in Veterinary Dermatology
Dr. Sarah Hoff, DVM, MPH, DACVD
Board-Certified Specialist in Veterinary Dermatology
Staff
Katlynn Alford, Veterinary Assistant
Jamie Cillo, Receptionist
Kiersten Gillman, RVT, Veterinary Technician
Jane Gregory, RVT, Veterinary Technician
Courtani Pineau-Gaynor, RVT, Veterinary Technician
Christine Pohlman, Receptionist
Katie Rippee, Veterinary Assistant
Rebecca Wiseman, RVT, Veterinary Technician