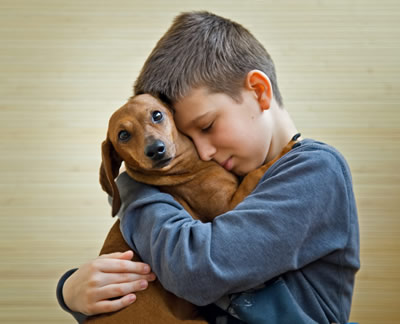 Companion animals make a strong and lasting mark in the lives of their human counterparts. The bond that is created does not disappear when death occurs. Strong emotional and physical reactions to the death of a companion animal are healthy and normal. They include feelings of grief, pain, shock, anxiety and guilt. These reactions can be overwhelming, which is why a support group of family and friends is important during this time.
Grieving is a process that is unique for each individual. Being able to find a personal way to acknowledge the special bond is a necessary step to processing one's grief. Our program strives to provide assistance and support to clients who bring their animals to the MU Veterinary Health Center and provide service referral within the larger Missouri area and national communities.
Areas in which we assist:
End-of-life concerns
Anticipatory grief
How to talk to children about animal health and death
Ways to memorialize the special bond with a companion animal
Resources to help people cope with the loss of their animal
Grief counselor available to talk with animal owners
Training for faculty, staff and students
Contact
Kaleigh Feldkamp, MSW
Phone: 573-884-1295
Email: kdfc74@umsystem.edu
Resources
National Suicide Prevention Lifeline
Veterans Crisis Line

1-800-273-8255
Text with a Veterans Crisis Line Responder: Send a text message to 838255

Missouri Crisis Text Line

Text assistance is available by texting "HAND" to 839863.
The Missouri Crisis Line is staffed by local volunteers who are trained to respond to a wide range of difficulties including suicide, self-injury, sexual assault, relationship violence, and emotional distress.

Vet Vine: Virtual Pet Loss Support Services
APLB List of Book Resources

Keep in mind that each book is written from the author's point of view and not all books will be helpful to all people. Feel free to jump around in a book, skip sections, read the end first, or read sections that apply to your journey.