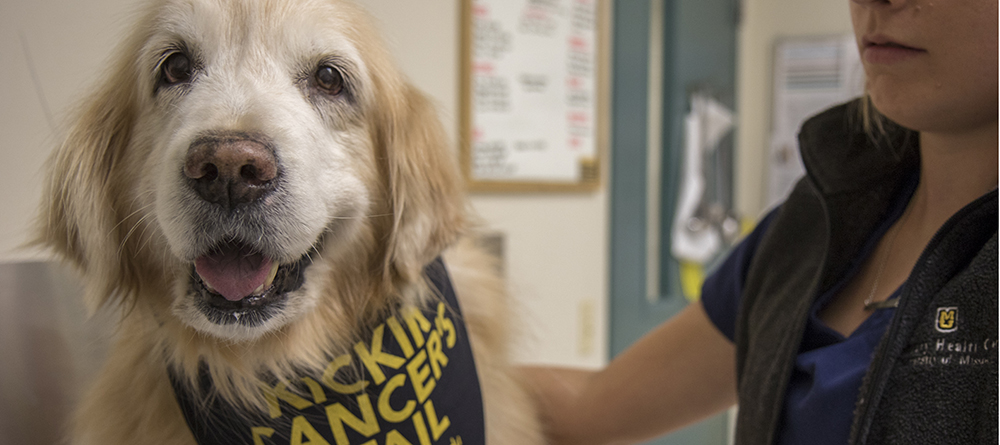 Welcome to the MU Veterinary Health Center Oncology Service.
Our mission is to provide state-of-the-art, compassionate cancer care for animals and to teach veterinary students, interns and residents about safe and proper diagnostics and treatments. In addition, we strive to advance evidence-based cancer medicine among all species with an emphasis in our research on comparative medicine. We believe a team approach is crucial when treating pets with cancer. We partner with your veterinarian to provide the best care for your pet. We hope that you will choose us to be a part of your pet's team.
While we cannot provide medical consultation or recommendations over the Internet or by phone for animals we have not seen, we hope this site will answer some initial questions for people whose pets are diagnosed with cancer. Now, more than ever, treatments available for cancer increase constantly. Cancer treatments are typically well-tolerated, and we strive to maintain an excellent quality of life for each pet we treat. Our first and most important job is to offer options and then to help pet owners choose the option that best fits their pet, their life and their goals.
Faculty Veterinarians
Jeffrey N. Bryan, DVM, MS, PhD, DACVIM-Oncology
Professor of Medical Oncology
Board-Certified Specialist in Veterinary Oncology
Tara Ehling, DVM, DACVR-Radiation Oncology
Assistant Clinical Professor of Radiation Oncology
Board-Certified Specialist in Veterinary Radiation Oncology
Carolyn Henry, DVM, MS, DACVIM-Oncology
Professor of Medical Oncology
Dean of the College of Veterinary Medicine
Board-Certified Specialist in Veterinary Oncology
Yoshimi Iwaki, DVM, MS, DACVIM-Oncology
Assistant Teaching Professor
Board-Certified Specialist in Veterinary Oncology
Jimmy C. Lattimer, DVM, MS, DACVR-Radiology and Radiation Oncology
Associate Professor of Radiology and Radiation Oncology
Board-Certified Specialist in Veterinary Radiology
Board-Certified Specialist in Veterinary Radiation Oncology
Charles Maitz, DVM, PhD, DACVR-Radiation Oncology
Assistant Professor of Radiation Oncology
Board-Certified Specialist in Veterinary Radiation Oncology
Megan Mickelson, DVM, DACVS-SA
ACVS Fellow, Surgical Oncology
Assistant Professor of Small Animal Surgical Oncology
Board-Certified Specialist in Small Animal Surgery
Owen Skinner, BVSc, DECVS, DACVS-SA, MRCVS
ACVS Fellow, Surgical Oncology
Assistant Professor of Small Animal Surgical Oncology
Board-Certified Specialist in Veterinary Surgery
Residents
Allison Barbour, DVM
Samantha Crist, DVM (Radiation Oncology)
Valerie Morales, DVM (Radiation Oncology)
Allison Nacliero, DVM, MPH
Ada Naramor, DVM (Radiation Oncology)
Kate Olson, DVM (Medical Oncology)
Kristin Sawyer, DVM (Medical Oncology)
Christine Tran Hoang, DVM (Medical Oncology)
Whitney Wyatt, DVM (Radiation Oncology)
Vivian Yang, DVM
Laura Yannai, DVM
Interns
Andrea Mastorakis, DVM (Surgical Oncology)
Allison Valentijn, DVM (Clinical Trials)
Oncology Staff
Jaerie Booher, RVT (Surgical Oncology)
Kaitlin Dobson, (Medical Oncology)
Whitney Fahrendorf, RVT (Radiation Oncology)
Anastasia Glahn, RVT, VTS (Oncology) (Medical Oncology)
Oncology Nursing Staff Supervisor
Elizabeth Gordon, RVT, (Radiation Oncology/Anesthesia)
Malissa Hoehn, RVT, (Surgical Oncology)
Karissa Jamboretz, (Medical Oncology)
Drailyn King, (Oncology)
Joni Lunceford, CNMT (Nuclear Medicine/PET)
Jeff March, VT (Radiation Oncology)
Sydney Miget, RVT (Clinical Trials)
Jeanna Moreno, (Medical Oncology)
Megan Richter, (Surgical Oncology)
Michele Zelaya, RVT (Medical Oncology)
Radiopharmaceutical Research
Kun-Eek Kil, PhD
Research Assistant Professor
Michael Lewis, MS, PhD
Professor of Oncology
Comparative Oncology Radiobiology and Epigenetics Laboratory
Angela McCleary-Wheeler, DVM, PhD, DACVIM(Oncology)
Director