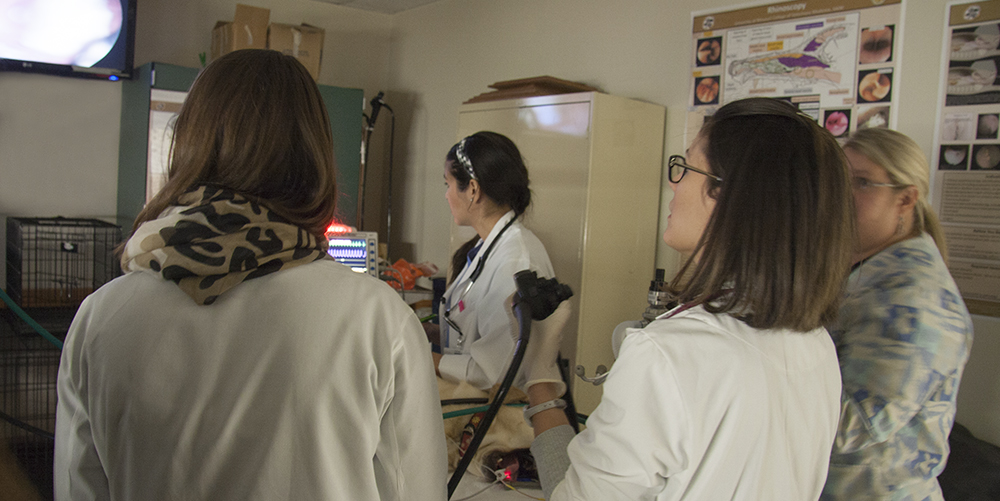 The Small Animal Internal Medicine Service specializes in the diagnosis and treatment of serious or complicated health problems in dogs and cats. Most of our patients have been referred for treatment by another veterinarian. Examples of diseases most appropriately evaluated by an internist include:
Respiratory disease, such as asthma in cats or chronic nasal discharge in dogs
Gastrointestinal disease, such as pancreatitis or inflammatory bowel disease
Liver disease, such as hepatic lipidosis or cirrhosis
Kidney disease, such as urinary stones, chronic urinary infection or renal failure
Endocrine disease, such as Cushing's disease or diabetes mellitus
Hematologic disease, such as hemolytic anemia or thrombocytopenia
Infectious disease, such as histoplasmosis, ehrlichiosis or feline leukemia virus infection
Veterinarians in practice are able to diagnose and treat many of the conditions and diseases that affect pets. However, internal medicine specialists have completed concentrated training programs in internal medicine and have passed the rigorous examinations of the American College of Veterinary Internal Medicine. This training and experience has focused their knowledge and skills to improve their ability to diagnose and treat your pet's problem.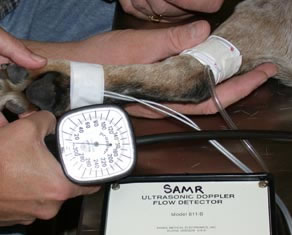 The state-of-the-art facilities and specialists at the MU Veterinary Health Center allow us to provide tests and treatment that simply aren't possible at most other veterinary practices. Internists are trained to perform procedures such as gastroscopy, esophagoscopy, colonoscopy, bronchoscopy, rhinoscopy and cystoscopy.
A better understanding of disease will lead to better diagnostic and treatment options. What we learn in one animal species can often inform our knowledge of other species. The Comparative Internal Medicine Laboratory at the University of Missouri attempts to generate knowledge to improve the health of all animal species, including humans, by answering relevant questions about animal health, searching for answers to those questions in a laboratory setting and then applying those answers back in the clinic.
Small Animal Internal Medicine Consultation Form
Internal Medicine Faculty Veterinarians
Leah A. Cohn, DVM, PhD, DACVIM-Small Animal Internal Medicine
Interim Dean of the College of Veterinary Medicine
Professor and Small Animal Internal Medicine Service Chief
Board-Certified Specialist in Small Animal Internal Medicine
Jason M. Eberhardt, DVM, MS, DACVIM-Small Animal Internal Medicine
Assistant Teaching Professor
Board-Certified Specialist in Small Animal Internal Medicine
Carol R. Reinero, DVM, PhD, DACVIM-Small Animal Internal Medicine
Professor of Small Animal Internal Medicine
Board-Certified Specialist in Small Animal Internal Medicine
Laura Nafe, DVM, MS, DACVIM-Small Animal Internal Medicine
Assistant Teaching Professor
Board-Certified Specialist in Small Animal Internal Medicine
Aida Vientós-Plotts, DVM, PhD, DACVIM-Small Animal Internal Medicine
Assistant Professor
Associate Director, Comparative Internal Medicine Laboratory
Board-Certified Specialist in Small Animal Internal Medicine
Jo Mudoch, DVM
Clinical Instructor
Michael Barchilon, DVM
Clinical Instructor
Residents
Ashley Anderson, DVM
Hasan El Musa, DVM
Charlotte Gerhard, DVM
Jennifer Howard, DVM
Briana Lippert, DVM
Rachel McNair, DVM
Iliana Navarro-LaBoy, DVM
Veterinary Technicians
Matthew Haight, RVT
Veterinary Assistant

Natalie Eaton
Auryetta Torres-Jeffery, MPH