Do you need a hotel while your pet is being treated?
Barkley House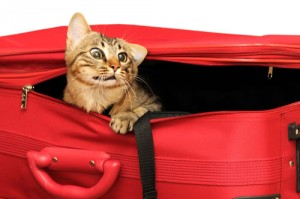 Barkley House is a project to provide temporary lodging for families whose pets are receiving treatment at the MU Veterinary Health Center. Pets may stay with their owners in a homelike setting, lessening anxiety for both the animals and their owners and helping to speed recovery. Stoney Creek Hotel and Conference Center has developed two Barkley House rooms to accommodate people whose pets are patients at the VHC. Each room has a non-slip, non-porous floor for easy clean-up, hypoallergenic bedding for pets and their owners, and supplies needed for animals undergoing long-term care, such as water and food bowls, a litter box and a pet bed. The rooms also have a private door leading to enough green space for pets to enjoy when they are able. To make a reservation, call Stoney Creek at 573-442-6400.
Learn more about Barkley House.
Pet-Friendly Hotels
Several pet-friendly hotels are relatively close to the Veterinary Health Center. For more options, including campgrounds and RV parks, visit the Columbia Convention and Visitors Bureau's lodging directory.
Hotel Name
Address
*Stoney Creek Inn & Conference Center*

*consider asking about the availability of the Barkley House Room. It is a room specifically made available to the MU College of Veterinary Medicine for recovering patients. Long-term stays are available. Space limited.

2601 S. Providence Rd
573-442-6400
Comfort Suites
1010 Business Loop 70 West
573-443-0055
Quality Inn and Suites
801 N. Keene St
573-449-4422
Springhill Suites by Marriott
3415 Clark Lane
573-554-9024
Drury Inn & Drury Plaza East
*Pet Friendly*Online code for discount 324587
1000 Knipp St/3100 Interstate 70 Dr. SE
573-445-1800/573-441-0090
Extended Stay America
*Pet friendly*
200 Business Loop 70 West
573-445-6800
Fairfield Inn by Marriott
1115 Woodland Springs Court
573-886-8888
Hampton Inn
*Service dog only*
1225 Fellows Place Blvd
573-214-2222
Hampton Inn
*Service dog only*
3410 Clark Lane
573-886-9392
Motel 6 East
*Pet friendly*
3402 I-70 Drive SE
573-815-0123
Ramada Hotel and Suites
*Pet friendly*
901 Conley Road
573-234-4459
Red Roof Inn
*Pet friendly*
201 East Texas Avenue
573-442-0145
Candlewood Suites
*Pet friendly*
1400 Creekwood Parkway
573-256-0200
Staybridge Suites
*Pet friendly*
805 Keene Street
573-442-8600
Super 8
3216 Clark Lane
573-474-8488
The Residence Inn by Marriott
*Pet Friendly*
1100 Woodland Springs Court
573-442-5601
Country Inn & Suites
*Pet friendly*
817 N Keene Street
573-445-8585