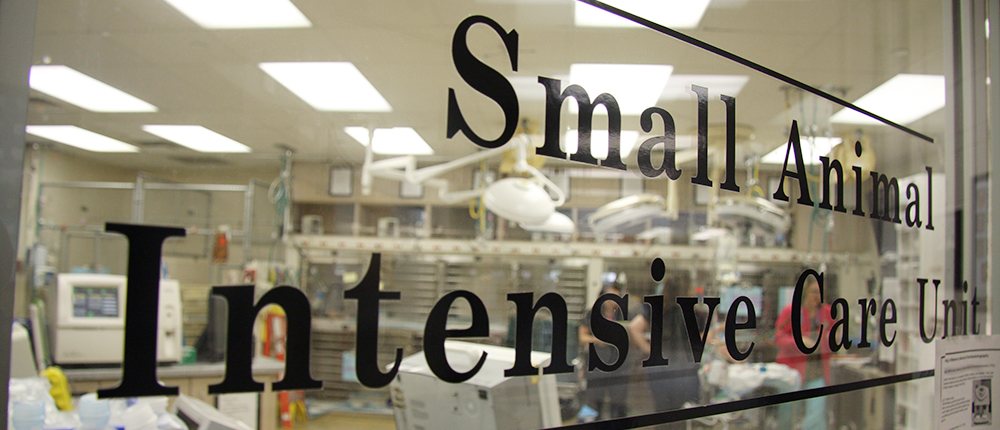 The Small Animal Hospital at the Veterinary Health Center provides around-the-clock, around-the-calendar care for ill and injured dogs and cats. Please see our current small animal emergency service policies.
Our service provides two types of care: emergency care and critical care.
Emergency Care
Animals don't always become ill or injured during regular business hours. We are here to see your pet in the middle of the night or the middle of a long weekend. Of course, we are also able to accommodate animals in the middle of the day.
Please see our current small animal emergency service policies.
Although we welcome any information in advance of us seeing a patient on emergency, it is not necessary. If circumstances allow, please call 573-882-7821 (8 a.m. to 5 p.m. weekdays) or 573-882-4589 (after hours) so we can be prepared for your arrival.
If this is not possible, we welcome walk-in emergencies. Patients admitted on emergency are triaged upon arrival and provided with lifesaving emergency care as necessary. All patients receive a complete evaluation by the emergency veterinarian on duty, and the client is informed of the findings of the examination. We will recommend diagnostic and treatment plans and provide a complete estimate for emergency stabilization. We can perform routine diagnostics such as lab work and standard radiographs at any time, and we can provide stabilization, intensive-care hospitalization and 24-hour monitoring as indicated.
More complex diagnostic and surgical procedures can be performed on an emergency basis if the patient is not stable enough to wait for times when the hospital is fully staffed. Emergency diagnostic, surgical and treatment decisions are made on a case-by-case basis and in consultation with the appropriate specialty service. Communications with the primary care veterinarian for each patient seen after hours include an emergency fax sent the next business day to inform the pet's veterinarian of initial findings.
Critical Care
As a tertiary referral center, the patients seen at the Veterinary Health Center are often extremely ill and suffering from critical illnesses. Our faculty specialists in critical care are equipped to provide the most intensive and comprehensive care possible to these sickest pets. Animals in our intensive care unit are monitored 24 hours a day, and a veterinarian is always present to cope with any change in medical condition. This care is available to pets admitted for emergency services as well as to pets admitted by our other community practice or specialty services.
We are able to monitor animals using such advanced methods as cardiac telemetry, blood gas analysis, blood pressure, electrolyte and metabolic assessments, and more. We are able to provide supportive care that is not available anywhere else in mid-Missouri, including ventilatory support for animals unable to adequately breathe on their own.
Faculty Veterinarians
F.A. (Tony) Mann, DVM, MS, DACVS, DACVECC
Professor and Director of Small Animal Emergency and Critical Care Services
Board-Certified Specialist in Veterinary Surgery
Board-Certified Specialist in Veterinary Emergency and Critical Care
Amy Molitoris, DVM
Clinical Instructor
Faculty Emergency Veterinarians
Matthew Allen, DVM
Clinical Instructor
Elizabeth Easley, DVM
Clinical Instructor
Laurie Frasher, DVM
Clinical Instructor
Katie O'Brien, DVM
Clinical Instructor
Bryan Shedd, DVM
Clinical Instructor
Kevin Shull, DVM
Clinical Instructor
Belinda Tedder, DVM
Clinical Instructor
Jerry Toporis, DVM
Clinical Instructor
Veterinary Technicians
Savannah Buckman, RVT, ER Supervisor
Samantha Carter, RVT
Morgan Keys, RVT, ICU Supervisor
Hope Larson, RVT, Relief Technician
Chandra Nicole Rivera, RVT
Mariangely Torres Rodriguez, RVT
Ruth Silverberg, RVT, Relief Technician
Alyson Zawisza, RVT

Veterinary Assistants
Clorissa Adams
Emily Boshera
Amber Braddy
Kalin Gunter
Abby Hall
Maya Harris
Rachel Jeffries
Olivia Knowa
Jeana Lambert
Ashley Myers
Samantha Niemeir
Alyssa Obermeyer
Lauren Sanner
Jarrett Sutphin
Taylor Tynes