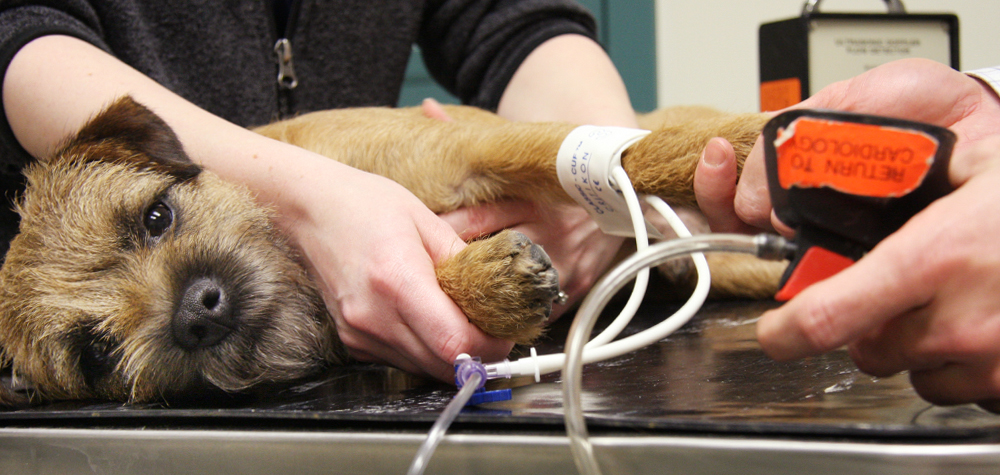 Heart diseases are common in pets, and often they can be successfully managed or even cured. Whether your pet is facing a congenital defect present from birth or an acquired heart disease, we are here to help.
The Cardiology Service of the University of Missouri Veterinary Health Center consists of two board-certified faculty cardiologists, two cardiology residents, a cardiology specialty intern, and a dedicated certified cardiology technician as well as a cardiology assistant. Together, the team provides state-of-the-art evaluation of heart diseases. We offer echocardiographic, radiographic, electrocardiographic (ECG) and 24-hour ambulatory ECG evaluations, blood pressure measurement, as well as advanced imaging such as angiocardiography, computed tomography (CT) and magnetic resonance imaging (MRI).
Most patients can be evaluated using non-invasive diagnostic techniques with immediate results. We also offer minimally invasive interventional procedures to cure or improve certain congenital defects, and implant pacemakers in patients with heart rates that are too low.
Our multi-specialty hospital gives us access to specialists in various fields, so we can address every medical need during your visit.
Cardiology Faculty Veterinarians
Stacey Leach, DVM, MS, DACVIM-Cardiology
Chief of Cardiology
Associate Teaching Professor of Veterinary Cardiology
Board-Certified Specialist in Veterinary Cardiology
Kelly Wiggen, DVM, DACVIM-Cardiology
Assistant Teaching Professor of Veterinary Cardiology
Board-Certified Specialist in Veterinary Cardiology
Residents
Elizabeth Martin, DVM
Alix Saavedra, DVM
Interns
Michael Haynes, DVM
Cardiology Staff
Kelsey Brown, RVT, Veterinary Technician
Lauren Roewe, Veterinary Assistant