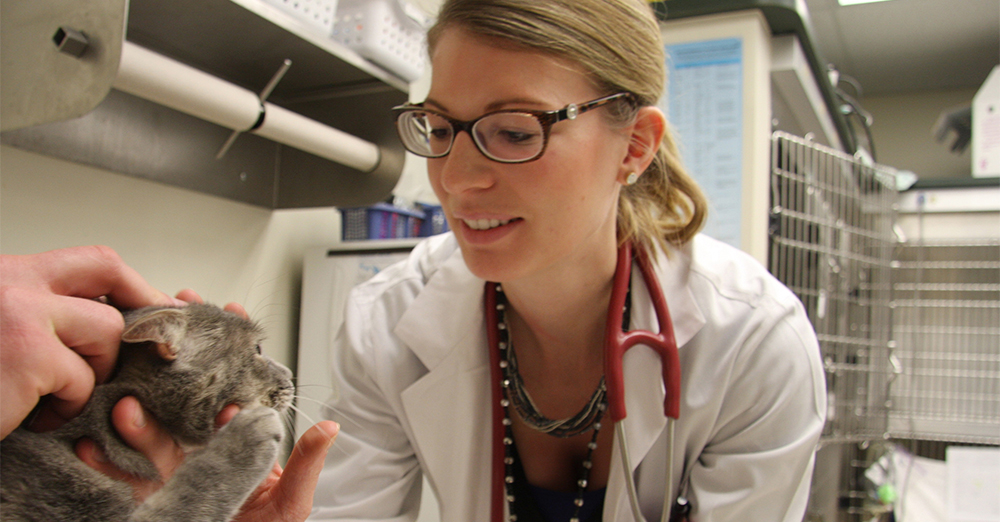 The Veterinary Health Center's Community Practice Section provides primary veterinary care for small animal owners in Columbia, Missouri, and surrounding communities. Although we offer a complete range of veterinary services, our main focus is preventing disease and pain and maximizing quality of life for our patients.
We can also offer resources and advice on how best to choose an appropriate puppy or kitten for your lifestyle as well as assistance in getting them off on the right paw in your household. We believe an ounce of prevention is worth a pound of cure.
When your companions are ill, we can care for many of their problems. We focus on dental and oral conditions, ear conditions, nutritional conditions, behavior problems and all types of skin problems. When our patients need specialty care, we are only steps away from a wide array of board-certified specialists plus advanced diagnostic equipment, such as computed tomography (CT), magnetic resonance imaging (MRI) and positron emission tomography (PET). We strive to be up to date and thorough, and we want to partner with you in the care of your beloved companions.
Because we are a teaching hospital, examinations and treatments may take longer than in private practice. We use a team approach with checks and balances to evaluate and treat patients and ensure the best possible care. We take pride in providing training to third- and fourth-year professional students and postgraduate students (interns). Our team includes faculty, interns, students and staff. Although our students and interns change on a regular basis, we have a stable team of experienced veterinarians and registered/certified veterinary technicians who look forward to getting to know you and your pets.
Faculty
Meagan Brophy, DVM
Clinical Instructor
Amie Burling,DVM, DACVPM, DABVP (Shelter Medicine Practice)
Assistant Teaching Professor of Shelter Medicine
Board-Certified Specialist in Veterinary Preventive Medicine and in Shelter Medicine Practice
Carrie Duran, DVM, PharmD
Adjunct Assistant Professor
Alisa Hutchison, DVM
Assistant Professor
Michelle LeRoy, DVM, DACVD
Adjunct Assistant Professor
Board-Certified Specialist in Veterinary Dermatology
Richard Meadows, DVM, DABVP-Canine and Feline
Curators' Distinguished Teaching Professor
Board-Certified Specialist in Canine and Feline Practice
David Senter, DVM, DACVD
Adjunct Assistant Professor
Board-Certified Specialist in Veterinary Dermatology
Eva Ulery, DVM, DABVP-Canine and Feline
Assistant Teaching Professor
Board-Certified Specialist in Canine and Feline Practice
Resident
Lindsay McCauliffe, DVM
Dermatology
Veterinary Technicians
Michelle Biermann, RVT, VTS-Dentistry
Danielle Hurd, RVT
Kacey Lundy, RVT
Mary McFillen, RVT
Veterinary Assistants
Drew Pfeffer, Veterinary Assistant