What is Barkley House?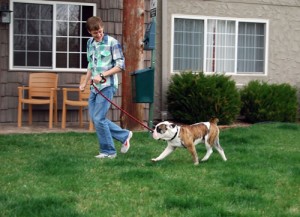 Barkley House is an exciting project that provides temporary lodging for families whose pets are receiving treatment at the University of Missouri Veterinary Health Center. Allowing pets to stay with their owners in a homelike setting lessens anxiety for both the animals and their owners and helps to speed recovery.
Currently, Barkley House is a project, not a specific building. The hope is to one day build a facility to house clients and their pets. Leaders at the College of Veterinary Medicine and in Columbia are looking at various options that can meet the needs of clients and provide the ideal environment for recovering pets.
Visit the Barkley House website
Where can I stay until Barkley House is built?
Stoney Creek Hotel and Conference Center has modified two rooms to accommodate people whose pets are patients at the VHC. The Barkley House rooms at Stoney Creek will serve as an option while the MU College of Veterinary Medicine continues fundraising efforts for a facility dedicated to the Barkley House concept. To make a reservation, call Stoney Creek at 573-442-6400.
What makes the Barkley House rooms different from other pet-friendly hotels in the area?
Members of the Barkley House advisory board collaborated with Stoney Creek management to design rooms specifically for VHC clients and their pets. Each of the rooms has a non-slip, non-porous floor for easy clean-up, hypoallergenic bedding for pets and their owners, and supplies needed for animals undergoing long-term care, such as water and food bowls, a litter box and a pet bed. The rooms also have a private door leading to enough green space for pets to enjoy when they are able and a unique library with reading materials geared toward pet owners.
I gave to Barkley House in the past. How has my contribution been used?
Thanks to the many supporters and donors of Barkley House over the past 10 years, we have been able to promote the Barkley House concept to other supporters and community leaders. We have built a solid foundation of support to pursue new ways to make Barkley House a reality.
How much has been raised to date?
To date, more than $700,000 has been raised to benefit Barkley House. Because 65 percent is provided through bequests and planned gifts, additional funds are needed to promote and educate individuals about Barkley House. As we pursue new opportunities, private gifts will ensure the success of Barkley House in conjunction with the University of Missouri and the community.
How can I support Barkley House?
Giving to the CVM is easy, and all gifts are tax-deductible to the fullest extent allowed by law. There are several giving options.
Make a gift with a credit card by calling 888-850-2357 or visiting our online giving site.
Pledge a contribution over five years.
Give through a bequest or planned gift.
Give in honor or memory of a beloved pet, friend or family member.
Make a gift by check by sending your check to:
MU College of Veterinary Medicine Barkley House
Attn: Director of Advancement
W210 Veterinary Medicine Building
Columbia, MO 65211
Please make your check payable to the University of Missouri, and write "Barkley House" in the memo section to ensure proper routing.
For more information about Barkley House or to establish a gift, contact the MU College of Veterinary Medicine Office of Advancement at 888-850-2357 or CVMgiving@missouri.edu.