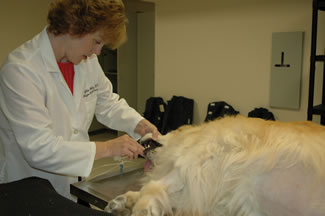 The University of Missouri Veterinary Health Center at Wentzville offers unique services to complement the full line of routine and specialized veterinary care at our Columbia location. Our satellite clinic opened in 2011 to offer cancer treatments, especially radiation therapy, in the St. Louis area. With our convenient location, more pets can receive the best possible cancer care without the need to travel to Columbia. In addition to our high-quality, compassionate cancer treatment, we now offer behavior management and dermatology services.
Our VHC – Wentzville veterinarians include board-certified specialists who are happy to work closely with your local veterinarian or to coordinate care with the specialists at our Columbia location. If you are unsure if your pet is a candidate for care at our clinic, please call us or talk to your veterinarian.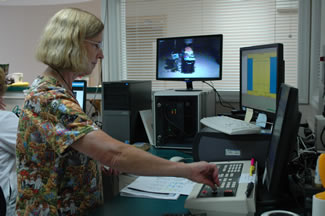 Services offered at our Wentzville facility:
Medical oncology: Cancer treatments include new options available only through clinical trials.
Radiation oncology: Radiation therapy can be delivered on an outpatient basis with our state-of-the-art linear accelerator.
Advanced diagnostic imaging: We offer computerized tomography as well as diagnostic radiography, and all images are evaluated by a specialist in veterinary radiology.
Behavioral therapy: We provide evaluation and treatment options for problems such as separation anxiety, aggression or eliminating in inappropriate locations.
Dermatology: Our specialist can diagnose and treat a variety of disorders of the skin, ears and nails.
To make an appointment, call 636-332-5041.
Wentzville Veterinarians
Karen Campbell, DVM, MS, DACVIM-Small Animal Internal Medicine, DACVD
Board-Certified Specialist in Small Animal Internal Medicine
Board-Certified Specialist in Veterinary Dermatology
Tara Ehling, DVM, DACVR-Radiation Oncology
Assistant Clinical Professor of Radiation Oncology
Board-Certified Specialist in Veterinary Radiation Oncology
Colleen Koch, DVM
Resident in Veterinary Behavior
Julie Wentz, DVM
Director of Veterinary Health Center – Wentzville
Staff
Mary Flacke, Veterinary Technician
Clare Frederking, RVT, Head Veterinary Technician
Diane Ragan, RVT, Veterinary Technician
Gaye Sponamore, Radiation Therapist
Carla Zerbolio, Receptionist