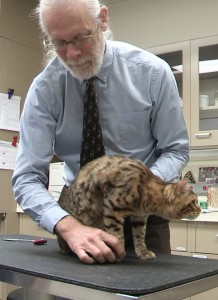 Thank you for choosing the University of Missouri Veterinary Health Center. The clinicians, students and technicians of the Neurology and Neurosurgery Service are dedicated to providing exceptional care for your pet.
Our section is led by internationally recognized faculty members who are board-certified in veterinary neurology/neurosurgery. Veterinary students, as well as resident and intern veterinarians who are engaged in postgraduate training, actively participate in each phase of patient care.
We are dedicated to improving our patients' lives and providing excellent customer service. We hope the following information will make your upcoming appointment go smoothly.
Before your appointment
Please take a few moments before your appointment to jot down what you regard as your most significant concerns about your pet. Consider how long any problems have been going on, what medications or changes in diet have been tried, whether any previous treatments have helped, and whether there has been any changes in weight, drinking habits or urinary or bowel habits.
It is often helpful if your veterinarian speaks with one of our clinicians prior to your appointment. Either way, bring copies of medical records, laboratory tests and X-rays with you. We will want to know about heartworm prevention and what types of vaccines have been given and when.
Bring all medications your pet is taking with you, or at least bring a list of the drug names and dosages to your appointment.
Please know that procedures that require anesthesia (such as CT or MRI) are rarely done the day of the initial appointment.
During your appointment
Free client parking is available adjacent to the Veterinary Health Center. Friendly receptionists will check in you and your pet.
After you check in, a clinical veterinary student will:
Ask you questions about your pet's medical history.
Perform a physical examination on your pet.
Provide a summary of this information to the neurology clinician who will be examining your pet.
A Neurology and Neurosurgery Service clinician (faculty, resident or intern) will:
Perform a complete neurological examination of your pet.
Discuss options available for diagnosing and treating your pet.
Tailor the plan to provide optimal treatment for your pet's needs.
A cost estimate for diagnostic testing and treatment options will be provided prior to rendering services. As part of the Veterinary Health Center process, the student, supervised by a veterinarian, will be the primary communicator during your pet's stay. You may ask to speak to the faculty clinician at any time.
How much time should you allow?
The check-in process should take no more than 10 to 15 minutes. After check-in a veterinary student will meet you and begin your pet's exam within 20 minutes.
The student will spend approximately 20 to 30 minutes talking with you about your pet's history. Then your pet will be taken for a comprehensive neurologic examination with the clinician. That exam takes 45 minutes to one hour, after which the neurologist will return to discuss the next steps. Your visit may take up to two hours to make an accurate and complete assessment of your pet's problem and to thoroughly discuss diagnostic and treatment options with you.
While you wait
You are welcome to visit the Zou in the adjacent Veterinary Medicine Building while you wait. This cafeteria is conveniently located within walking distance of the hospital and is open from 7:30 a.m. to 4 p.m. on weekdays. Please leave a cell phone number or other means of contacting you, and we will call you when we need you to return. If your pet is admitted to the hospital for further tests or surgery, you are welcome to stay in Columbia or return to pick up your pet at a later date.
Next steps
Depending on your pet's needs, we may recommend further tests to determine the source of the problem. We offer the latest in diagnostic tests including:
Advanced imaging such as MRI or CT scans to view the brain or spinal cord
Electrodiagnostic testing to identify seizure disorders and diseases of the muscles and peripheral nerves.
Spinal tap to detect infections of the nervous system
DNA testing for genetic diseases
Our team can provide both medical and surgical treatments as necessary for your pet.
Our payment policy
Payment at the time of service is expected. The VHC accepts cash, check or credit card, and a financing option is available. A deposit equal to one-half of the upper end of the estimate range is required for patients admitted to the hospital. The remainder of the balance should be paid upon discharge.