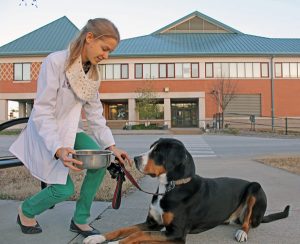 Every pet is unique. We customize every nutrition consultation to ensure the recommendations are individualized for the pet. The process includes review of received pertinent medical records, detailed diet history and scientific literature. When indicated, we utilize specialized nutrition formulation software to create complete and balanced homemade diets. Our consultation service will analyze the pet's current diet and give detailed information as to the nutritional management of the pet's situation. This procedure certifies a complete nutritional plan tailored to the pet.
Once a pet has been seen by a veterinarian at MU Veterinary Health Center, the MU veterinarian can request a nutrition consultation on the pet and owner's behalf. A base fee is charged for all consultations, but additional costs can apply depending on the request (i.e. feeding tube, home cooked diet, etc.).
Instructions on how to request a nutrition consultation.