Services we provide:
Therapeutic diet recommendations
Nutritional plans for pets with multiple medical conditions
Critical care and assisted feeding consultation (tube-feeding)
Home-prepared diet recipes for medical conditions
Customized weight loss plans
Home-prepared diet recipes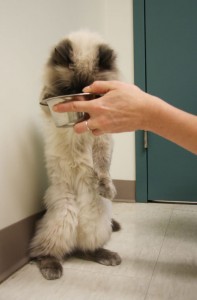 In situations where a homemade recipe is necessary to address a pet's medical concerns, recipes are formulated under the guidance of board-certified faculty members of the Clinical Nutrition Service. Our nutritionists are veterinarians and diplomates of the American College of Veterinary Nutrition, and they are uniquely trained in nutritional management of companion animals. Veterinary nutritionists are also qualified to manage complex medical conditions of the individual animals and understand underlying disease process and the implications of specific nutritional strategies to prevent and treat certain diseases.
Recipes are intentionally designed to be as simple as possible to facilitate client preparation. The specific recipe will be accompanied with cooking instructions, supplement information and follow-up recommendations.
Following the recipe exactly is crucial. The nutritional profile of a diet can be drastically altered even with subtle differences in preparation, cuts of meat or processing methods. With that in mind, variations and substitutions are discouraged to reduce the risk of unbalancing the diet, which may result in possible nutrient deficiencies or excesses. Even a similar food item with the same amount of calories will have a different nutritional profile.