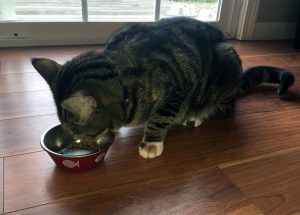 Our Clinical Nutrition Service was formed through support of the Nestlé Purina Endowed Program in Small Animal Nutrition at the MU College of Veterinary Medicine. Since its inception, the primary function of our service has been to offer consultation and training to veterinarians on clinical nutrition. Our principal focus is service to the University of Missouri's Veterinary Health Center, which is our base of operation. At the VHC, we provide consultation ranging from feeding normal, healthy pets to special diet formulation for management of patients in and out of the hospital.
Our service is led by veterinarians trained in clinical nutrition who have met credentialing requirements of the American College of Veterinary Nutrition (ACVN). The ACVN is recognized and overseen by the American Board of Veterinary Specialties of the American Veterinary Medical Association. Also contributing to our service are veterinarians receiving residency training in small animal clinical nutrition.
Our mission is to improve the health and quality of life of pets through consultations and training veterinary students. Integral to our service are clinical rotations in which third- and fourth-year veterinary students may elect to participate as part of their veterinary medical training. Activities of our service present valuable experience on nutrition issues that veterinary practitioners frequently encounter.