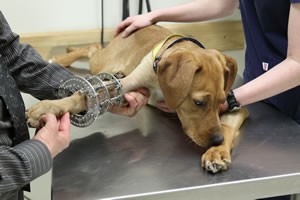 The Small Animal Surgery Service works diligently to prevent, treat, diagnose and research injuries and diseases that require surgical intervention. You can help in this endeavor by giving a tax-deductible gift to the Small Animal Surgery Fund to support our skilled clinicians and researchers in their efforts to improve the quality of life for companion animals and their owners.
Your donation could help purchase new equipment that allows us to provide cutting-edge treatment, support our residency training program or fund groundbreaking research that will lead to new and better ways to treat disease. Additionally, your gift may also be directed to help animals whose owners don't have the resources to pay for treatment.
To make a gift with a credit card, call 573-882-0548 or visit our online giving site.
To make a gift by check, send your donation to:
MU College of Veterinary Medicine
Small Animal Surgery Fund
Attn: Director of Advancement
W210 Veterinary Medicine Building
Columbia, MO 65211
Please make your check payable to the University of Missouri. To ensure proper routing, please write "Small Animal Surgery Fund" in the memo section of your check.
All donations are tax-deductible to the fullest extent allowed by law.