When you arrive at the University of Missouri's Veterinary Health Center, you will need to check in with the receptionists and let them know with which specialty you have an appointment: Orthopedics or Soft-Tissue Surgery (which includes General Surgery and Oncologic Surgery). The receptionist will then alert us that you are here.
A veterinary student will come up and introduce themself to you and begin collecting some information about your pet. They will first escort you to a scale to get your animal's weight and then show you to a private examination room where they will ask some questions regarding your pet's history. Next, they will perform a physical examination on your dog or cat. They are veterinarians in training, and this is one of the most valuable aspects of their education, so we appreciate your patience in allowing them to do a brief examination of your companion and to spend some time speaking with you.
When they are finished, the student will leave the room and speak with one of the surgery faculty about your dog or cat. The surgeon will then meet with you, repeat an examination of your animal and talk to you about its condition including a diagnostic and treatment plan. Usually, this will involve admitting your companion to our hospital to perform some kind of imaging study, like X-rays or an ultrasound and some blood tests. Unfortunately, hospital regulations stipulate that you cannot accompany your pet while it is having its tests done, but rest assured that it will be constantly attended during this process. Again, we pride ourselves on caring for your pet like it is our own.
Obtaining diagnostics can take anywhere from 20 to 90 minutes depending on what test we will be performing, with some tests taking longer. You are welcome to leave the hospital during this time; just make sure to leave us your cell phone number so we may contact you when we are done.
We want to keep your animal's stay in the hospital as short as possible to minimize your cost and the time your pet must be away from you, but we also prioritize the highest standard of care and do not wish to discharge your pet to you until it is ready. During surgery, a board-certified anesthesiologist will oversee the anesthesia of your pet. Your dog or cat will recover from surgery under the constant supervision of a veterinarian or veterinary technician. We have a strict policy of contacting you immediately following surgery and then every single day your pet is hospitalized to let you know how they are doing and to answer any questions you have.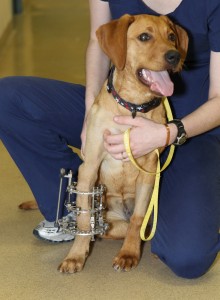 When your pet is ready to be released, we will review very specific instructions with you regarding care at home and give you a written copy of these instructions. We will also provide you with any needed medications from our in-house pharmacy with directions regarding their administration and things to watch out for. As ever, if questions arise once you get home, we are open 24 hours a day to answer them for you.
If you have additional questions about what to expect during your visit with the University of Missouri's Small Animal Surgical Service, please visit the Frequently Asked Questions page, or give us a call. We look forward to working with you in caring for your pet.