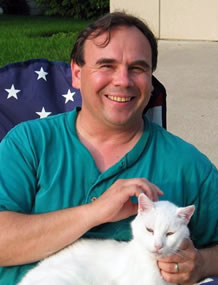 Robert C. Backus, MS, DVM, PhD, DACVN
Associate Professor and Director of the Nestlé Purina Endowed Program in Small Animal Nutrition
Board-Certified Specialist in Veterinary Nutrition
Robert Backus specializes in small animal clinical nutrition with special interests in nutritional aspects of feline diabetes and obesity. Backus is a graduate of the University of California Davis, where he received his veterinary and doctoral training. He is a diplomate of the American College of Veterinary Nutrition and director of the Nestlé Purina Endowed Program in Small Animal Nutrition. When not working, he enjoys playing with his grandsons and sharing anecdotes about his cat, DT, who is now retired from research.
Lauren R. Young, DVM, DACVN
Assistant Teaching Professor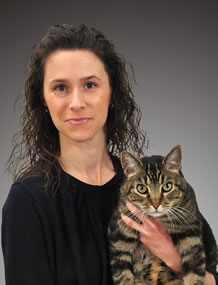 Lauren Young received her doctor of veterinary medicine from Mississippi State University in 2006. Afterward, she moved to the East Coast, where she practiced general small animal medicine and surgery for seven years in Maryland and New York before pursuing a small animal nutrition residency at the University of Missouri in 2013. She completed her residency in 2015. In November she began a post-doctoral research fellowship, which was awarded through the Morris Animal Foundation and Blue Buffalo Cancer Foundation. Young's research focus is on vitamin D supplementation in dogs, particularly as it may be of use in cancer patients.
Young has a soft spot for cats and now shares her home with three, Hera, Calvin and Jade. In her free time, Young loves traveling, cooking, reading and being active outdoors.
Residents
Catherine Ruggiero, MS, DVM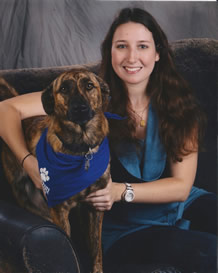 Catherine Ruggiero received her bachelor's degree from St. Lawrence University in 2007 and a master of science degree in biological sciences from Fordham University in 2010. She attended veterinary school at the University of Missouri College of Veterinary Medicine, where she received her doctor of veterinary medicine degree in 2014. She spent three years as an associate veterinarian in small animal general practice in upstate New York before returning to the University of Missouri to begin a clinical nutrition residency. Her interests include geriatric and senior pet nutrition, as well as client education and research. She is excited to be back in Columbia with her significant other, two mixed breed dogs, and cat. She enjoys spending time outdoors, preferably with her dogs, and especially on the water.